---
In 1999 Vijali began the second World Wheel, Global Peace Through the Arts, which circles the planet. Below is a description of one of the 12 sites from the second World Wheel circle. For more information about the second World Wheel project, see the Second World Wheel page.
The heart of Australia is in Alice Springs, a small town in the middle of numerous Aboriginal communities. This is where the World Wheel journey led us in the summer of 2010. This was my first time in Australia as I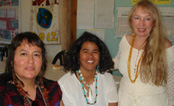 traveled with musician friends Tash and Elena. While in the Outback we traveled in a rental van and at times slept in our rental accommodation complete with a kitchenette and bed. With hours and hours of driving into 'the bush' each day, I was thrilled to experience this powerful earth with no man-made foundations. As soon as it became dark we would stop and cook delicious meals with one large iron frying pan on a single propane burner. Because of the numerous animals in the outback, it is recommended to stop at dusk. We saw herds of wild camels, wild horses, emus, many eagles, and of course the kangaroos and wallabies. 
Photo in paragraph: Tash, Elena (Indigie Femme) and Vijali – photo by Rangiwhiua Ponga
In Alice Springs we stayed with a beautiful Maori family who are from New Zealand. They are dedicated to their work and support of the Aborigines of the area.

(left) Temoana and Rangiwhiua Ponga – photo by Vijali Hamilton (center) Matariki Celebrations in Alice Springs with Matariki kapahapa group from Mt Isa, Queensland – photo by Tash; (right) Tash, Rangiwhiua, Teremoana, Elena & Vijali at the Matariki Celebrations – photo by Temoana Ponga
The highlight of this journey and the commitment the World Wheel has made is with an Aboriginal activist, Barbara Shaw, who has dedicated her life to helping her people. Her work at the moment is about protesting the threat of a nuclear waste dump being established on the Muckaty Aboriginal sacred land.
Photo in paragraph: World Wheel & Indigie Femme support at the
Intervention conference organization meeting – photo by Rangiwhiua Ponga 
Barbara's other efforts are going towards legalizing the Aboriginal lands for their people—a people who have lived between 40,000 and 60,000 years on this Australian land and the longest residence that have inhabited one area on our planet. The struggle for their legal rights is ongoing amongst tremendous prejudice socially and politically.
Photo in paragraph: Barbara Shaw (right) and family – mom, and two nephews
– photo taken by Rangiwhiua Ponga
Barbara's third focus is to eradicate the "Intervention Law." This law was originally established in the 1800s to protect the Aborigines from being used as slaves, but has since turned around to control their every movement and community life.
When we left Alice Springs we went to pay our respects to the most sacred place for the Aboriginals, Uluru (know to some as Ayer's Rock). This is the largest single rock on the planet. We three took our pilgrimage by walking around the entire rock, which took four hours. All the descriptions of this sacred rock does not come close to the experience of being there. Its presence is still in me.
Vijali at Uluru's waterfall – photo by Elena
When we first arrived in Australia we stayed in the community on Magnetic Island on the Eastern Coast of NMagnetic Island, North Queensland, Australiaorth Queensland. I created another "Ocean Rainbow Spiral" ceremony with the community as a prayer for the waters of our planet. As you know our waters are in crisis. Every year our population on earth
increases by 83 million people. Unless we change our habits – with the growing pollution in our waters, as well as the habits of wasteful use – it is possible that we will soon have a scarcity of potable water and water may become extremely costly.
Photo in paragraph: Magnetic Island, Queensland,
Australia – photo from Magnetic Times
For our ceremony on the island we wrote poetry, drew and painted about our relationship with water. The children wrote incredible poems that they read through a microphone that was set up for this Ocean Day gathering in Alma Bay. I also read some of my poems and the poems that were sent to my website from around the world. Thank you for your contributions.
Then we 'decked ourselves' in colorful sarongs tied to our wrists. Uncle Arthur, an Aboriginal elder from the island opened our eMagnetic Island, Alma Bay Rainbow Spiralvent with a blessing and his nephew taught us a prayer for honoring the water. We chanted the prayer. There were about twenty of us (children included) as we entered the clear warm water, and a couple of hundred people gathered at the edge of the surf.
Those of us in the ocean formed a rainbow spiral as we opened our sarong wings to the breeze. After our chanting subsided people gave individual prayers for the healing and protection of our oceans, rivers, streams, and lakes. We opened the pouches that each of us wore around our necks and emptied the contents of organic colors of red, green, purple, yellow, and orange, forming a painting prayer of a rainbow spiral. Three Manta Rays fish swam to the outside of our circle and hovered there during our ceremony.
Photo in paragraph: Tash at Alma Bay, Magnetic Island,
Queensland, Australia – photo by Marge Gaynor
A few days after the ceremony we went into a juvenile detention center in Townsville, Queensland. We facilitated art and music workshops for their youth. In the afternoon we were in the men and women's detention center in Townsville. It is said that 80% of the people in these prisons are Aboriginal, but our experience was that ALL the men were Aborigines and the women, all but two, were Aborigines. We heard their stories and instances of prejudice and mistrials. One woman has been sentenced for life for a crime she didn't commit. It was a rare experience and I will never forget the faces of these Aboriginal women that are now embedded in my heart.

(left)Vijali & Uncle at Elders Care Unit – photo by Tash; Vijali, Elena, Uncle, & Tash at the Yarrabah Musuem – photo by Lloyd; Foundation Day Celebrations – photos by Tash (All pictures taken in Yarrabah Community)
While in the Cairns area (Far North Queensland) we visited the Yarrabah Aboriginal Community, a mission that was settled in 1893. Over time many Aborigines (including some South Sea Islanders) were relocated from their homelands to Yarrabah.
During our visit, Tash and Elena sang, (Indigie Femme) and we were welcomed into their lives. We heard that many parents had been forced to leave their traditional lands to reside in the Yarrabah Mission. Many hundreds of children had been relocated to this mission and died within the first year from the result of being taken away from their families and traditional ways.
The World Wheel Projects emerge out of friendship and is always an unknown at the beginning of the journey. This World Wheel journey was an honoring of the Australian earth and its peoples. This was a pilgrimage imprinted deeply into our lives and the peoples of this continent.
---
NOTES AND PHOTO CREDITS
Banner:
Photo by Vijali Hamilton — Woman Made of the Comos in Tinos, Greece
Photo by Vijali Hamiton — Spirit Within Matter III in Castle Valley, Utah
Photo credits as noted in text.