---
In 1986, Vijali traveled to 12 sites around the world creating earth sculptures and performance ceremonies with the local communities. Below is a description of one of the 12 sites from the first World Wheel circle. For more information about the first World Wheel project, see About World Wheel page.
Woman with Great Wings of an Eagle
Connecting to the Force within Us
Egyptian desert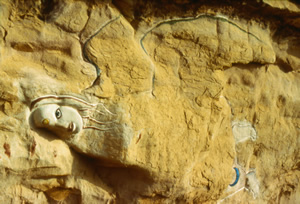 Traveling alone in Egypt was quite difficult for me. Egyptian women generally dress in "purdah" or stay home. A single female, out-and-about on her own, is viewed by some of the men as a sexual target. I was assaulted on two occasions, but fortunately I was not injured.
A primitive, instinctual force rose within me and I roared so ferociously that I scared away my attackers. It was as if I had taken on the energy of the dark goddess Kali, who wields a sword in one of her four hands and the sign of protection in another.
I had been told about some Coptic monasteries that existed somewhere in the middle of Egypt. I thought this might be a safe and suitable environment in which to work. At the very least, I wanted to meet the Coptic monks, who are still living the Augustinian tradition of the desert fathers. So I took a bus ride along the Red Sea in the hope of finding this remote religious community. When the bus driver dropped me off, he pointed into the desert and said, "Three hours hike."
After a few hours, I began to think that maybe I had made a mistake. Did I really hear him right? I would come around a hill and there was nothing; another hill and again there was nothing—nothing but desert as far as the eye could see.  I kept walking and eventually made it to the monastery.
The monks helped me to stay in the desert while I created on a twenty-foot wall of golden limestone jutting out of the desert floor, "Woman with the Great Wings of an Eagle, Sun at her Forehead, Moon at her Feet." Accented with red, yellow and rust, the sculpted woman looks out from her dark, penetrating eyes into a vast expanse of desert silence. The sun on her forehead is felt throughout the day, and the moon at her feet cools the desert at night. Her wings emanating from rock are suggestive of spirit emerging from matter.
The image itself comes from Revelations in the Bible; a woman with wings of an eagle flying to safety in the desert, her real home. I felt that this carving embodied the spirit of life that is dying in our industrial society, and that she would be preserved wherever wilderness is left in tact.
My own answers to my three questions were expressed in a ceremony I performed alone upon an immense desert sky. We come from the great void and are that matrix of life running through all creation. Our ailment is our own misunderstanding of who we are. We think we are separate from earth. The Great Healing is to realize we breathe with all life as one organism.
---
NOTES AND PHOTO CREDITS
Banner:
Photo by Sacha Burger — Spirit Within Matter II in Santa Monica Mountains 
Photo by Vijali Hamiton — Woman of Space (detail) in China
Photo by Vijali Hamilton — Woman with the Wings of an Eagle by Vijali Hamilton – World Wheel site 6