---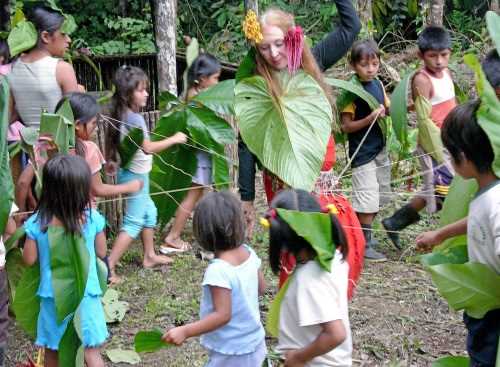 Vijali Dancing with Amazon Children. Ceremony of Empowerment for Peacemakers
Photo by Catherine Allport
WORLD WHEEL, GLOBAL PEACE THROUGH THE ARTS is an artistic forum for global understanding consisting of environmental stone sculptures, performance events, nature reserves, and wisdom centers circling the globe. By working through the arts with local artists, performers and community, founding director Vijali Hamilton addresses the local community's personal, spiritual, social, and environmental concerns. The project works toward global peace by developing awareness of community and the notion of world family.
You are invited to listen to a recent (2016) Vijali interview,  explaining the World Wheel Journey on a Santa Fe-based radio show, "Living Jucy," hosted by Rhea Goodman.
---
World Wheel Newsletter
Latest Newsletter:
My Journey to the Standing Rock Reservation Protests
Oceti Sakowin camp near Standing Rock Reservation
---
Click here to read my newsletters.
---
IMAGE NOTES AND CREDITS
Top Banner ~~ Sculpture in Peguche, Andes of Ecuador, by Vijali and community