---
I write to you from the World Wheel, a project that I started in 1986 of using my environmental stone sculpture to address the needs of communities, to address the needs of the environment, needs of children and families, needs of understanding neighbors who pray differently than ourselves, cultures different from our own, and a call for a change of heart.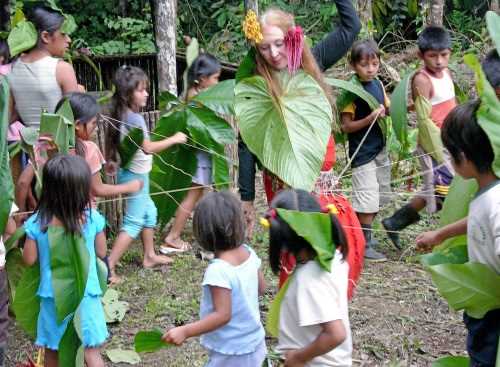 Vijali Dancing with Amazon Children. Ceremony of Empowerment for Peacemakers
Photo by Catherine Allport
Now I have worked, or rather lived and prayed, in over 20 countries, creating monumental stone sculptures, and community ceremony performances that address these issues. It is a platform for every individual to speak their heart, their fears and hopes for tomorrow.
"How do you begin," I am often asked. My answer is; I listen, I listen to people's voices through three questions, questions that I asked myself throughout my childhood and into adulthood:
1. Who am I. Who are you, in the deepest sense?
2. What is your problem, what is holding you back from living fully your essence?
3. What is the solution, what can heal, not only yourself, but your community, your country, your world?
The flowers have fallen and the trees now have tiny beginnings of fruit. And this is my prayer for the world, to allow these tiny beginnings of peace to grow and to someday flood the world with understanding, to fill these empty bellies and longing hearts with a love that passeth understanding.
I invite you to listen to a recent (2016) interview I gave,  explaining the World Wheel Journey on a Santa Fe-based radio show, "Living Jucy," hosted by Rhea Goodman.
---
World Wheel Newsletter
Latest Newsletter:
My Journey to the Standing Rock Reservation Protests
Oceti Sakowin camp near Standing Rock Reservation
---
Click here to read my newsletters.
---
IMAGE NOTES AND CREDITS
Top Banner ~~ Sculpture in Peguche, Andes of Ecuador, by Vijali and community